₹ 2,745.00
Regular price
₹ 3,495.00
Sale price
Unit price
per
Sale
Sold out
Cold-pressed virgin edible oil made from organically grown coconuts via traditional Kachi Ghani method. No Preservatives or Artificial Additives! 

Shelf Life: 12 Months
Description

How To Use:
* Coconut oil in itself is a multi-purpose oil, helpful in hair and skin nourishment
* It can help relieve indigestion.
* Oil pulling with coconut oil is good for oral hygiene.

Benefits:
* Rich in lauric acid, myristic acid, palmitic acid, monosaturated fats, poly saturated fats, plant sterols, and MCTs.
* Coconut oil helps in hair growth and health, boosts good cholesterol levels and improves cognitive function.
Storage Information

Store at Room Temperature
FAQ

Q1. What is Virgin Coconut Oil?
Answer: Virgin Coconut Oil is made from dry coconuts (khopra). It is made using traditional wooden kolhu (wood press machines) to extract oil from dry coconuts. It has a high smoking point, so it can be used for cooking as well as body application.

Q2. How to use Virgin Coconut Oil for baby massage?
Answer: Baby skin is sensitive, so, it's necessary to use an oil which is moisturizing and will protect their soft skin. For this, virgin coconut oil is the ultimate option as it has anti-germ and anti-inflammation properties. Plus, your baby will love its soothing natural aroma in massages!

Q3. Can Virgin Coconut Oil be heated?
Answer: It is best to heat virgin coconut oil at a medium rate, 350 deg F or approximately around 180 deg C.

Q4. How to lose weight with Virgin Coconut Oil?
Answer: Though we know that coconut oil is a healthy fat, there is no current concrete evidence about the claim of weight loss associated with it.

Q5. Can Virgin Coconut Oil be used for cooking?
Answer: Virgin coconut oils consist of saturated fat, lauric acid in a high amount, making them highly resistant to oxidation at high heat. Due to this, its usage is preferred in high-heat cooking methods.

Q6. How to use Virgin Coconut Oil for hair growth?
Answer: Vediko's coconut oil (virgin) is full of vitamins and naturally found essential fatty acids. Hence, applying it on your scalp not only removes the sebum built-up in your hair follicles but also nourishes the scalp for thick and smooth hair.

Q7. Can you use Coconut Oil as sunscreen?
Answer: Oils from coconut contain natural SPF. So, they absorb a good amount of the sun's radiation, acting as a sunscreen and protecting your skin from any potential damage.

Q8. Why is Coconut Oil-free in winter?
Answer: Coconut oil freezes and solidifies fast in the winters because of the low temperatures. Coconut has a low melting point of around 24C.

Q9. Can Virgin Coconut Oil be used for weight loss?
Answer: Saturated fats are responsible for weight gain and increase in cholesterol levels. But, virgin coconut oil does not contain any saturated fats. That is why they are considered as the best option for increasing energy and boosting metabolism, which in turn, helps with weight loss.
Offers

Get 5% Discount on Prepaid Orders
View full details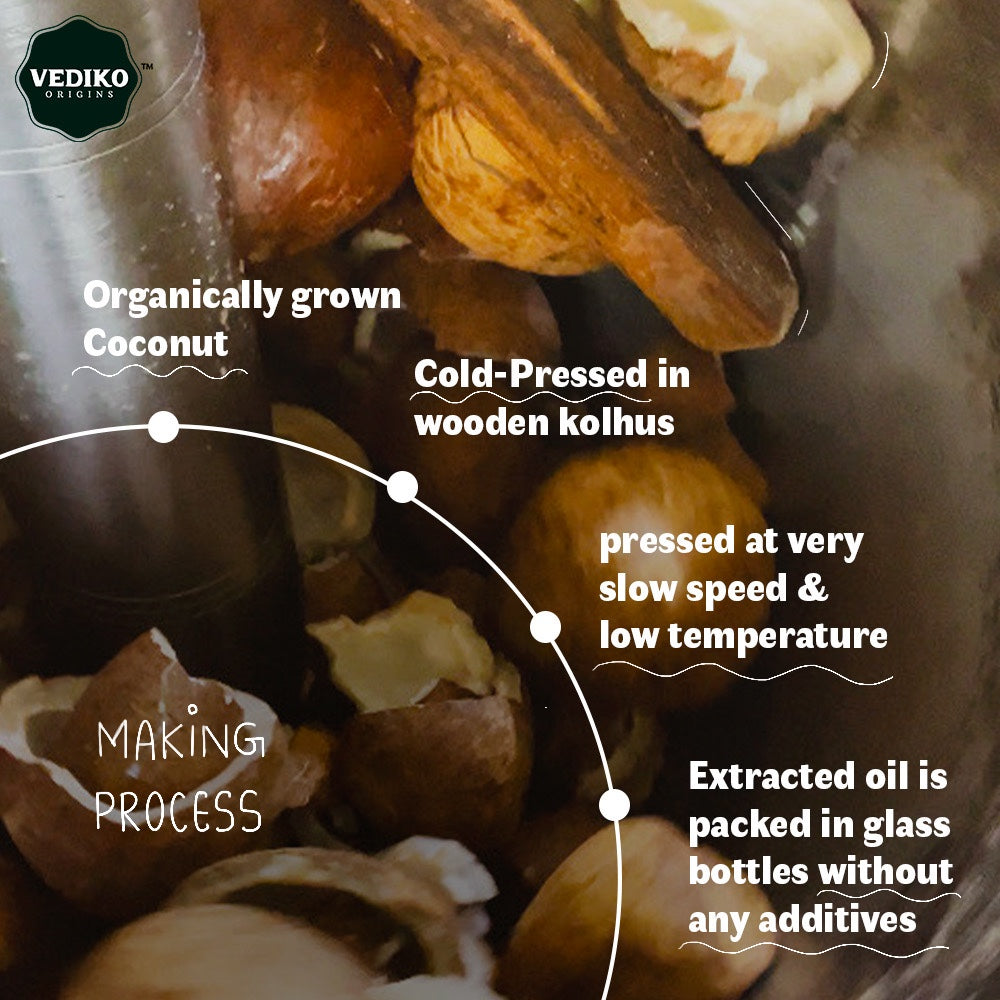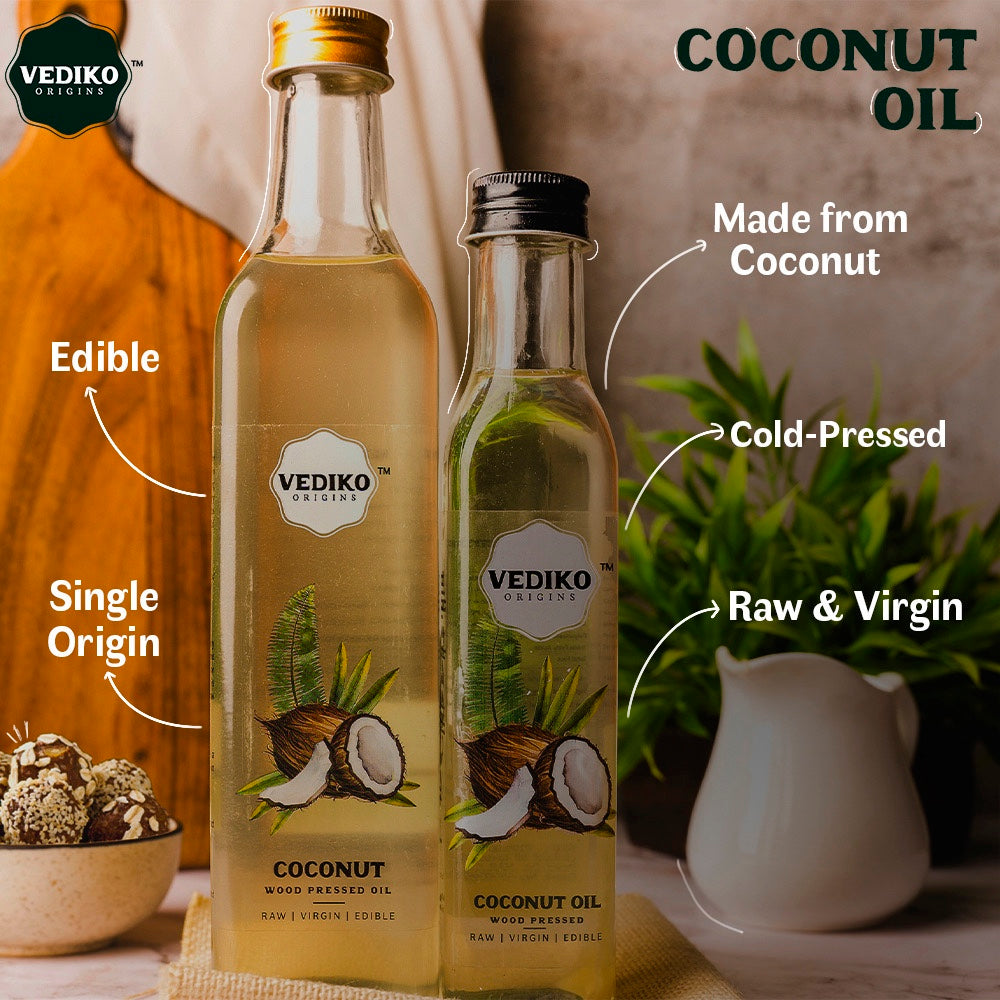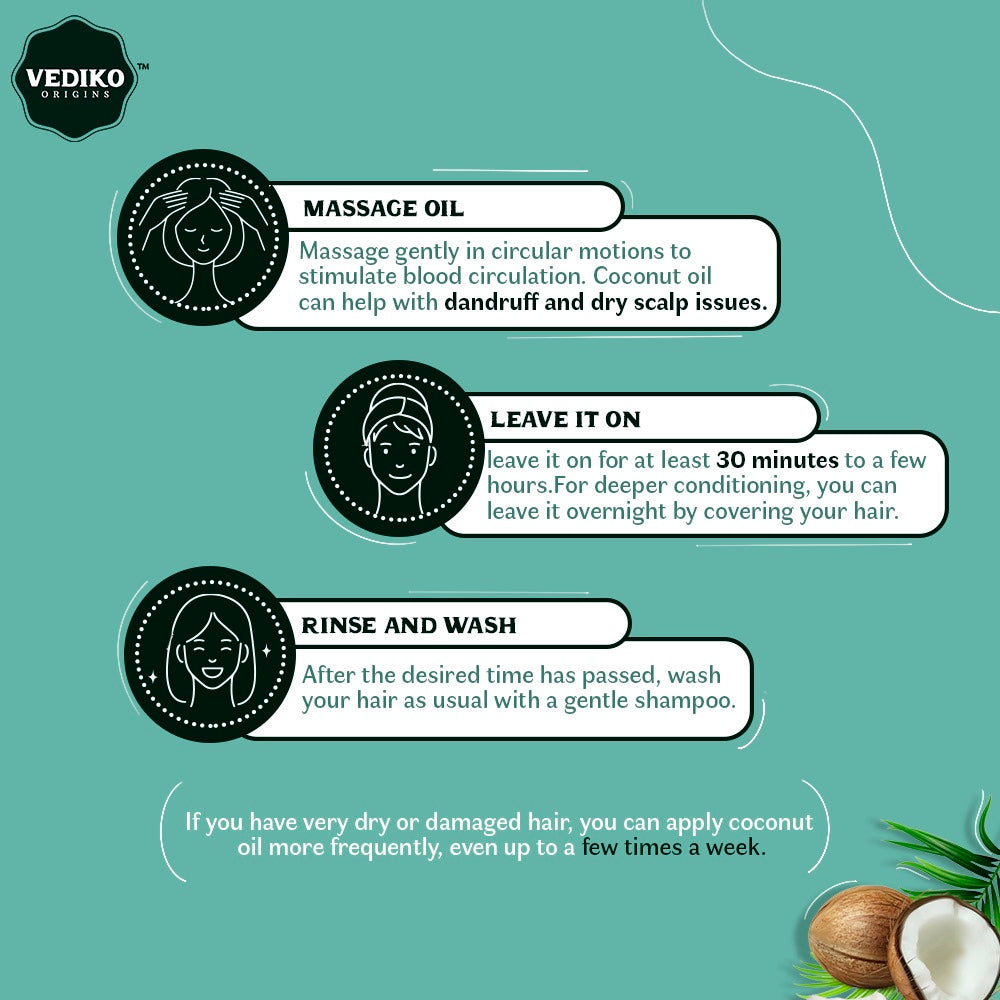 Our honest Process
Our Wood-Pressed Coconut Oil is made from Organically Grown Coconuts, cold pressed in Wooden Kolhus at a very slow RPM. So that minimal heat is generated in the extraction process. Keeping all the nutrition and flavour intact.