FLAT 5% OFF
On orders above ₹1499/- (Use Code: FLAT5)
FLAT 10% OFF
On orders above ₹1999/- (Use Code: FLAT10)
FLAT 12% OFF
On orders above ₹3999/- (Use Code: FLAT12)
FLAT 15% OFF
On orders above ₹5999/- (Use Code: FLAT15)
₹ 499.00
Regular price
₹ 599.00
Sale price
Unit price
per
Sale
Sold out
Desi cow (A2) ghee made from the milk of desi cows through the age-old Vedic hand churning technique called 'Bilona'. No preservatives.

A2 Desi Cow Ghee Shelf Life: 12 Months
Description

Benefits:
-Prevents heart blockages
-Lowers bad cholesterol
-Helps in curing gastric problems
-Promotes effective digestion
-Helps with insomnia, in weight loss, curing joint pains & good for body massages
-Also good for cooking as it has high smoking point.
Storage Information

Store at Room Temperature
FAQ

Q1. What is A2 Ghee?
Answer: There are two types of cows. One that is genetically modified (Foreign breeds and mixed breeds) and others that are native (Desi cows like Sahiwal, Gir, Haryanvi, etc). So, the Ghee made using the milk produced by the native indigenous cows is commonly called A2 Ghee.

Q2. What is the Bilona method of Ghee extraction
Answer: The Bilona method is a traditional method of making Ghee which is by using wooden churners. In this method, whole A2 milk is first used to set curd, which is then churned into butter and slowly heated to make Ghee. It is a slow process but after days of intensive churning and creating a microbe culture, the ghee comes out to be pure and gut-friendly, unlike commercially made Ghee which is made using Cream instead of Curd.

Q3. What is the difference between A1 and A2 Ghee?
Answer: A1 Ghee and A2 Ghee are named after the proteins found in their primary sources, i.e. milk. What differentiates the two, is the nutritional value and health benefits. All foreign breeds and mixed breed cows produce Milk that contains A1 type of protein, whereas all native Indian breeds of cows produce milk that contains A2 type of protein. Later is far more superior and healthy for the human body.

Q4. Does Desi Cow Ghee make you fat?
Answer: Ghee is an excellent source of amino acids which helps mobilize the fat and make the fat cells shrink in size because Omega-6 fatty acids assist the human body in reducing fat mass and increasing lean body mass. Apart from this, we should know that the fat percentage of the body is highly dependent on our overall calorie intake vs expenditure. Controlling only one type of food in our diet will hardly make any difference. Therefore, if consumed in moderation and prescribed limits, Ghee will not make you fat.

Q5. Does Desi Cow Ghee increase cholesterol
Answer: Because of the Omega-6 fatty acids present in the Desi Cow Ghee, it helps maintain a healthy and balanced diet. These fatty acids keep your heart healthy, along with the cardiovascular system. Ghee will help in maintaining HDL level, which is good cholesterol.


View full details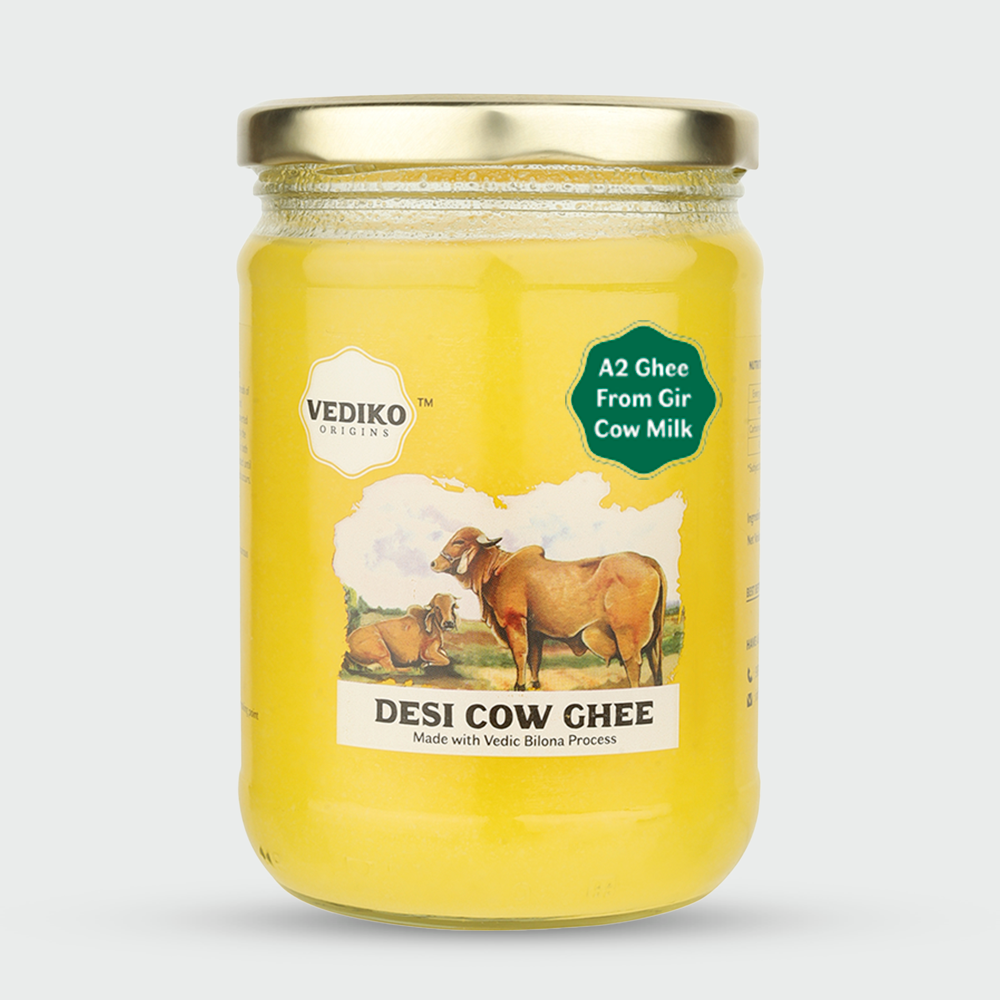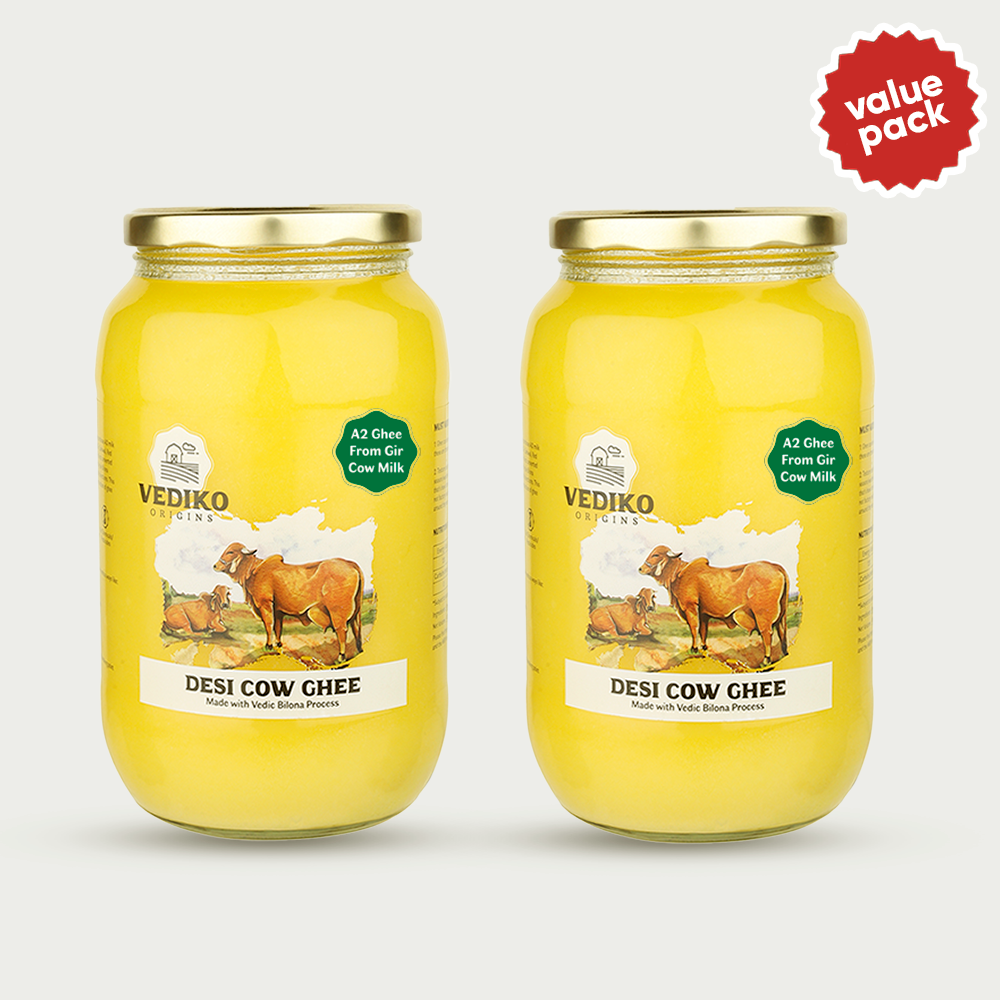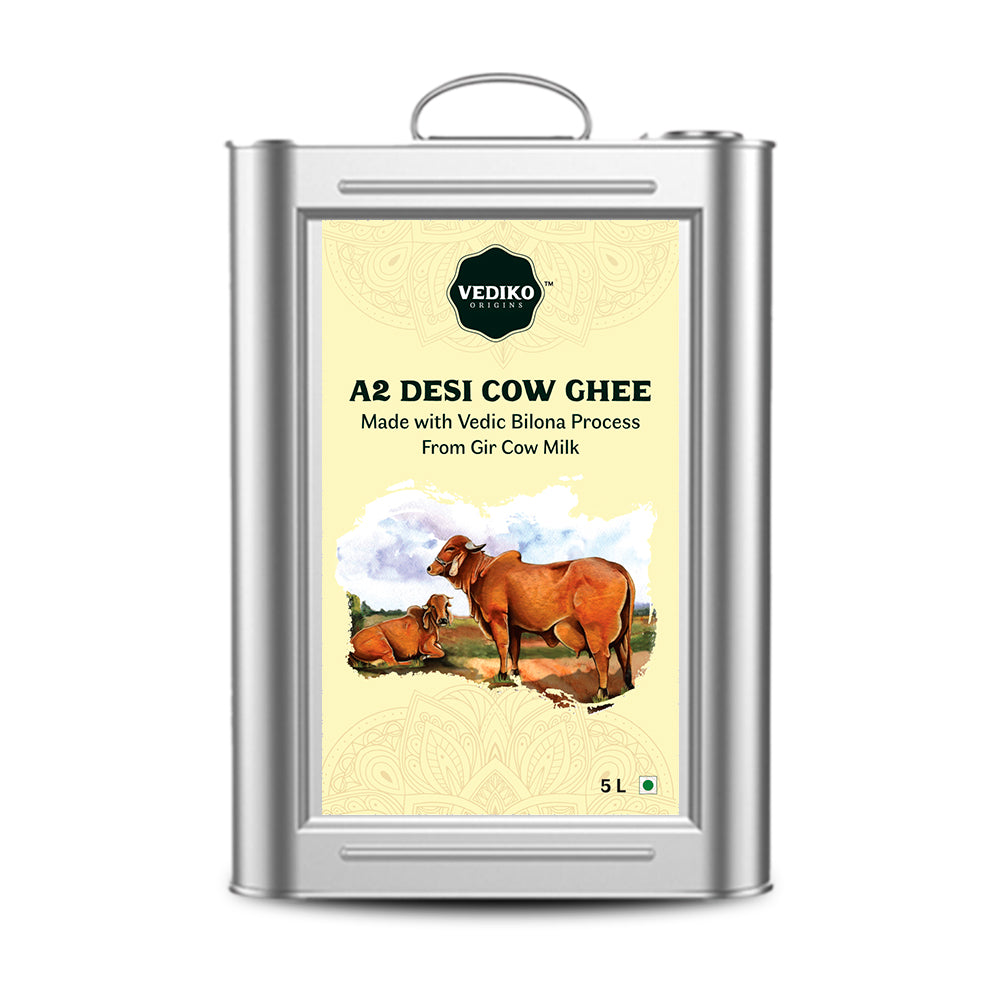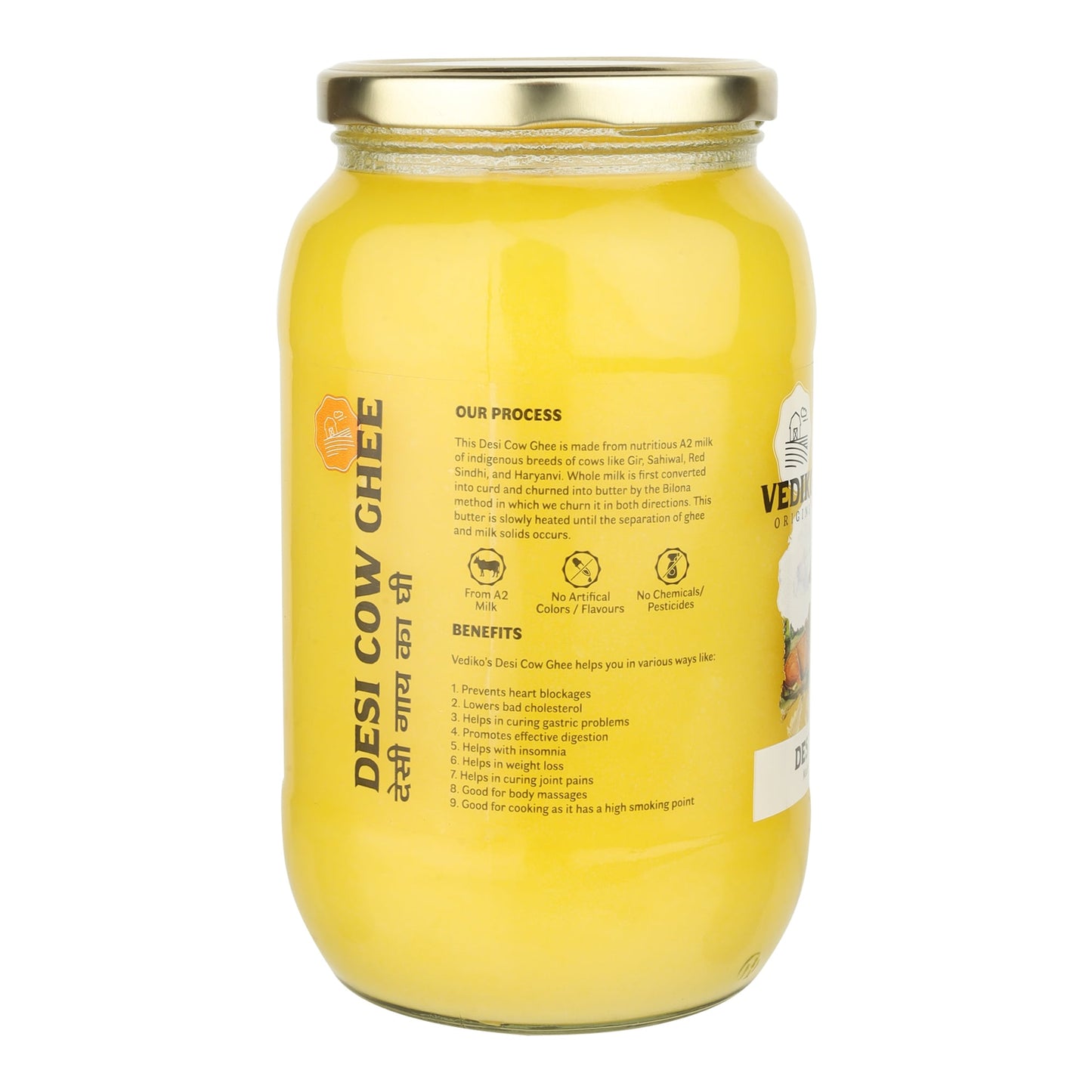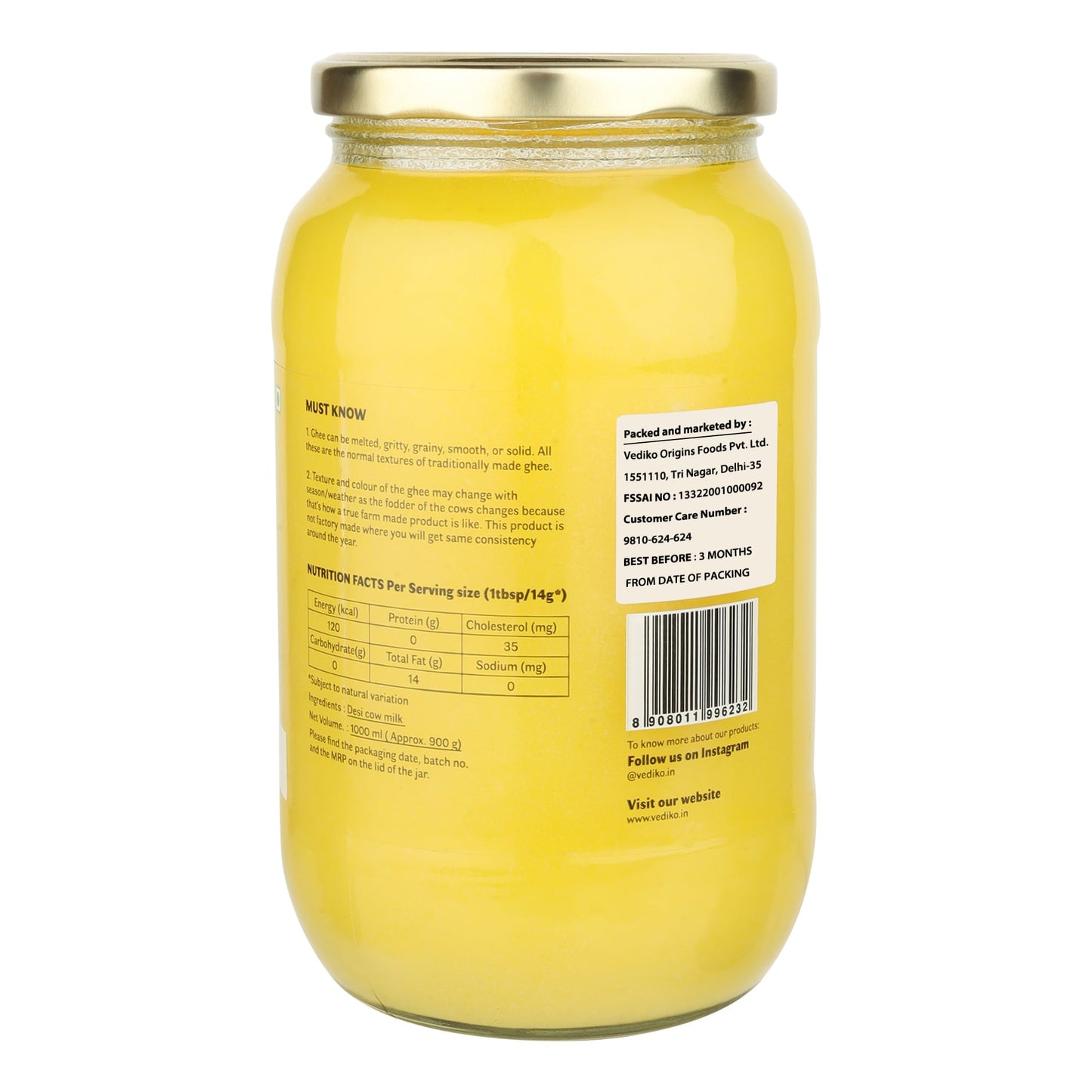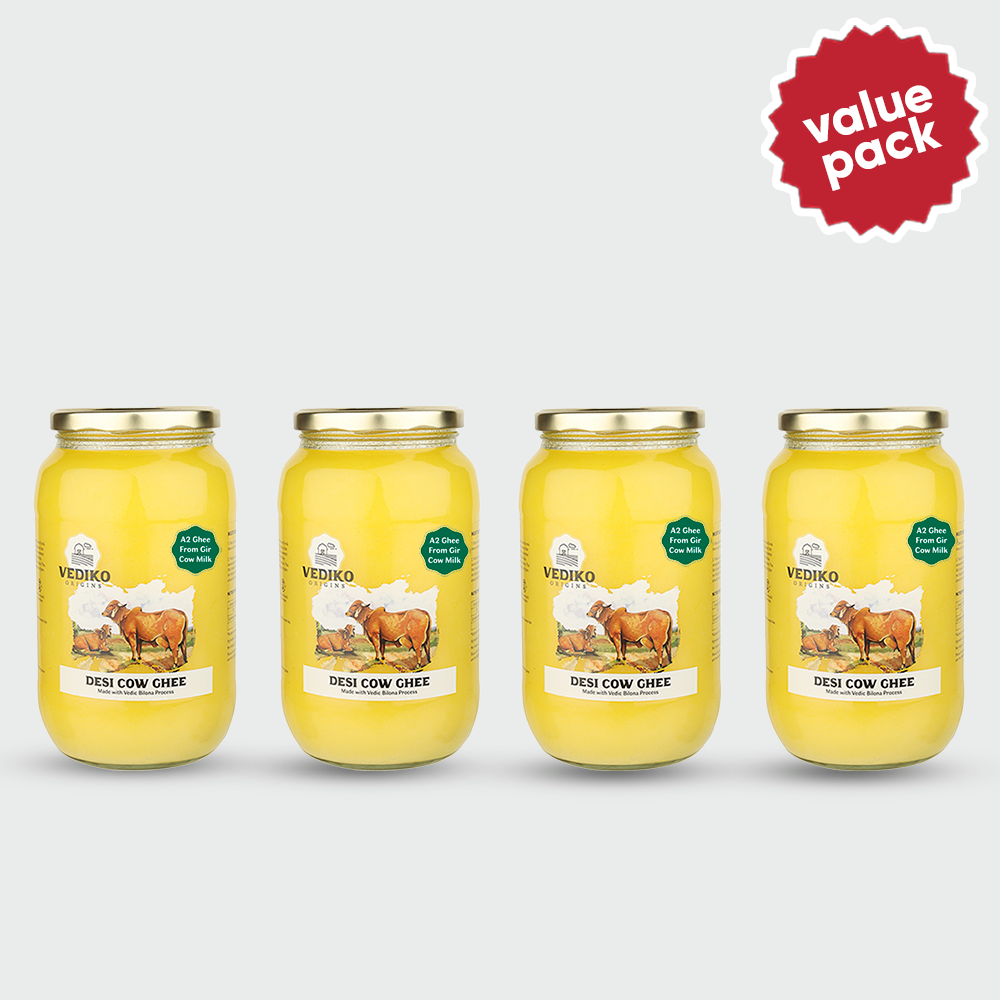 Our honest Process
Our A2 Gir Cow Ghee is made in our own Gaushala from the milk of Desi Gir Cows. This is made using Whole Milk Curd by traditional Bilona-Process. Carefully hand-churned in small batches and slowly cooked over firewoods.
Like the Ghee
Ghee Taste is Good. Product delivered in one day. Just Awesome
Look Good taste Good
I like the product its Taste and Smell are just awesome and also product packaging was also good,
Ghee is good for cooking it enhances the taste of food and is also easy to digest.
Good Product
I bought a trial version of Ghee to test if is it worth it. I like the ghee Taste and also Packaging is so Good