FLAT 5% OFF
On orders above ₹1499/- (Use Code: FLAT5)
FLAT 10% OFF
On orders above ₹1999/- (Use Code: FLAT10)
FLAT 12% OFF
On orders above ₹3999/- (Use Code: FLAT12)
FLAT 15% OFF
On orders above ₹5999/- (Use Code: FLAT15)
₹ 499.00
Regular price
₹ 549.00
Sale price
Unit price
per
Sale
Sold out
Cold-pressed virgin edible oil, obtained from organically grown native groundnuts via traditional Kachi Ghani method.

Shelf Life: 12 Months
Description

How to use:
* It is used as a cooking oil

Benefits:
* Rich in vitamin E, it provides protection from various chronic diseases while the unsaturated 'good fats' help maintain a good cholesterol level and balances high blood pressure.
* Delays onset of cognitive disorders such as Alzheimer's disease is also taken into account.
Storage Information

Store at Room Temperature
FAQ

Q1. What is Cold pressed Groundnut Oil?
Answer: A 'cold-pressed Groundnut Oil' is an oil produced from raw groundnuts (moongphali) using a traditional wood pressing process called a 'kohlu.' It has a nutty aroma and flavour that is comparable to that of nuts.

Q2. Is cold-pressed Groundnut Oil good for health?
Answer: Cold pressed Groundnut Oil is really good for health because they have proteins in abundance, along with the required healthy fats and dietary fibres. Peanuts are recommended by traditional medicine practitioners for a variety of ailments, including skin and hair problems, memory loss, diabetes, weight reduction, and more. What is the smoking point for cold-pressed groundnut oil? Its smoke point is about 160 degrees Celsius. Industrially refined groundnut oil has a smoke point of 210 degrees Celsius.

Q3. Is cold-pressed Peanut Oil good for frying? Answer: If you're heating up the oil, it may lose some of its nutritious value. Make a tadka with this oil, or use it to sauté veggies or stir-fry.

Q4. How to make cold-pressed Groundnut Oil? Answer: Cold-pressed oil is made by crushing peanuts and extracting the oil. We use the traditional wooden kohlus made by our artisans. The peanuts are put in a hole in the centre of the kohlu, which houses a revolving screw. The revolving screw fully smashes the groundnuts until the oil is removed and collected in a container attached to it.

Q5. Does Groundnut Oil increase cholesterol? Answer: It is true that groundnuts contain a lot of fat, yet they are completely free of cholesterol. Also known as monounsaturated fats, these beans have been shown to successfully reduce LDL or bad cholesterol. They are also treated as an alternate source of protein for vegetarians.
View full details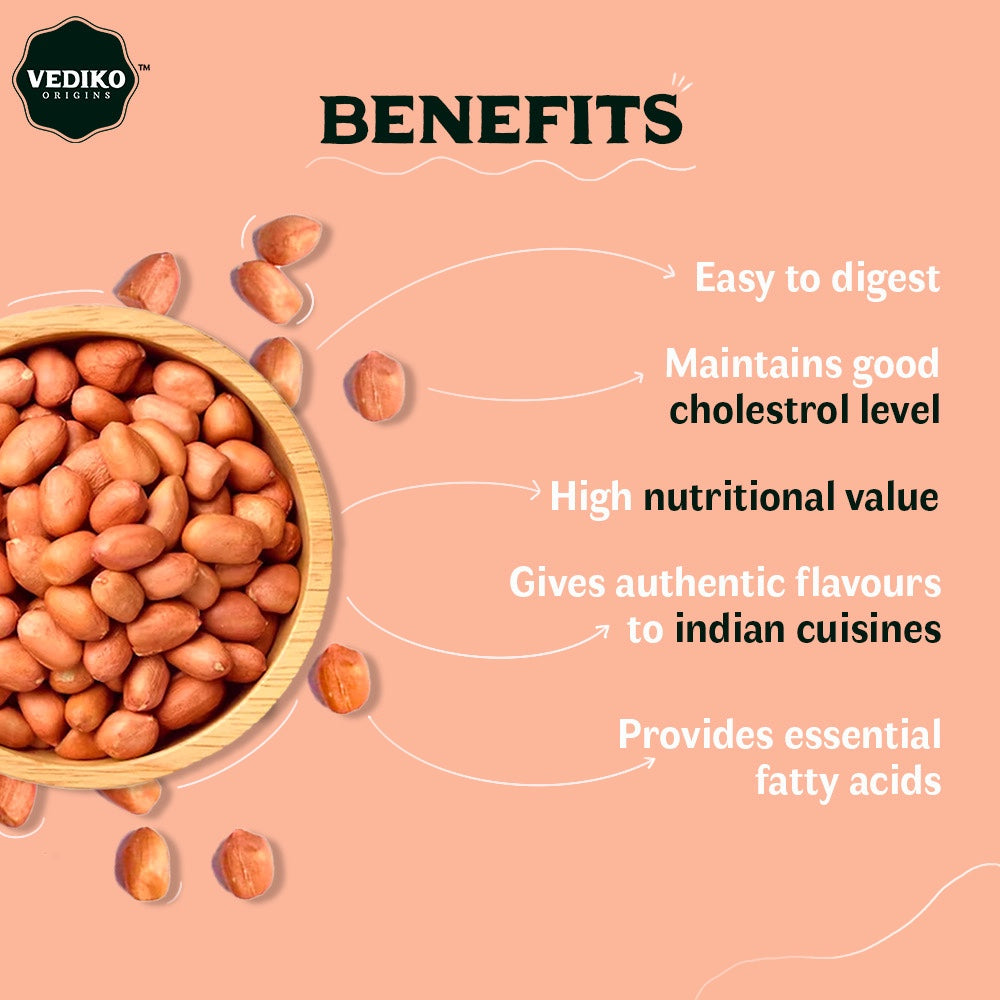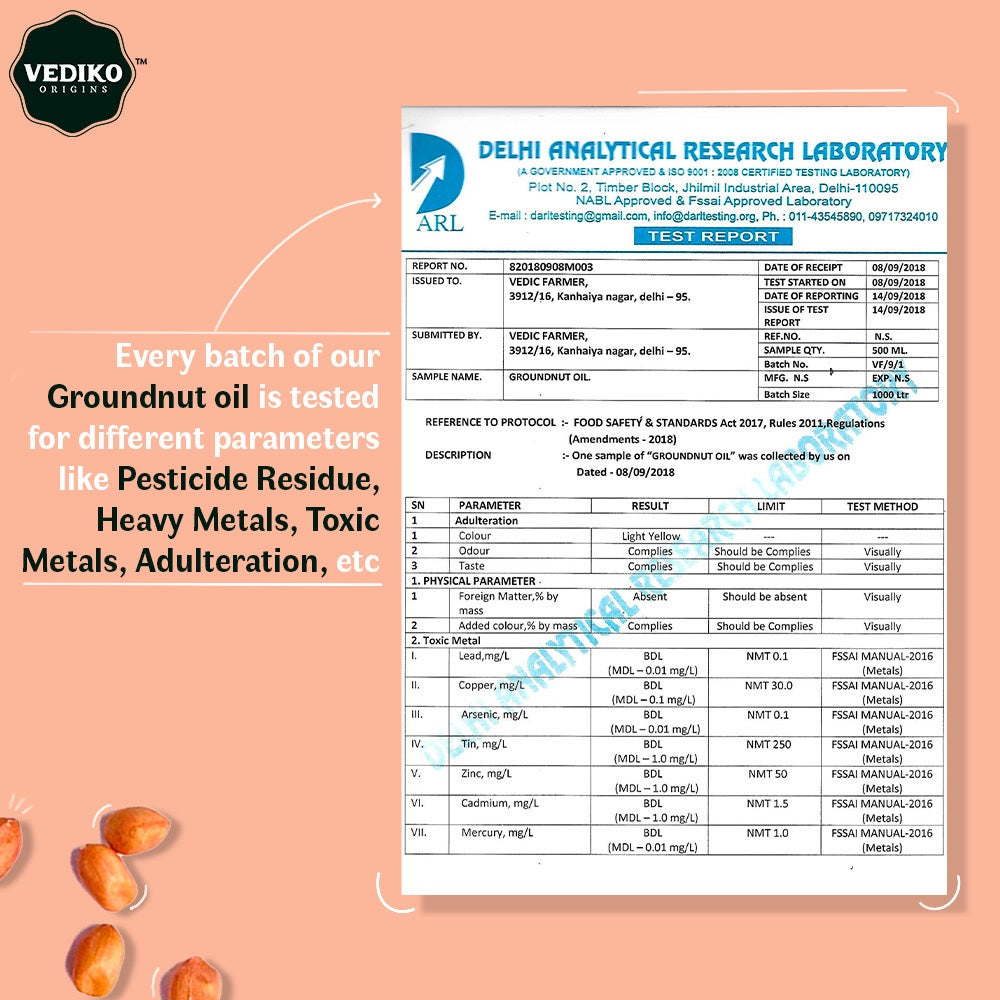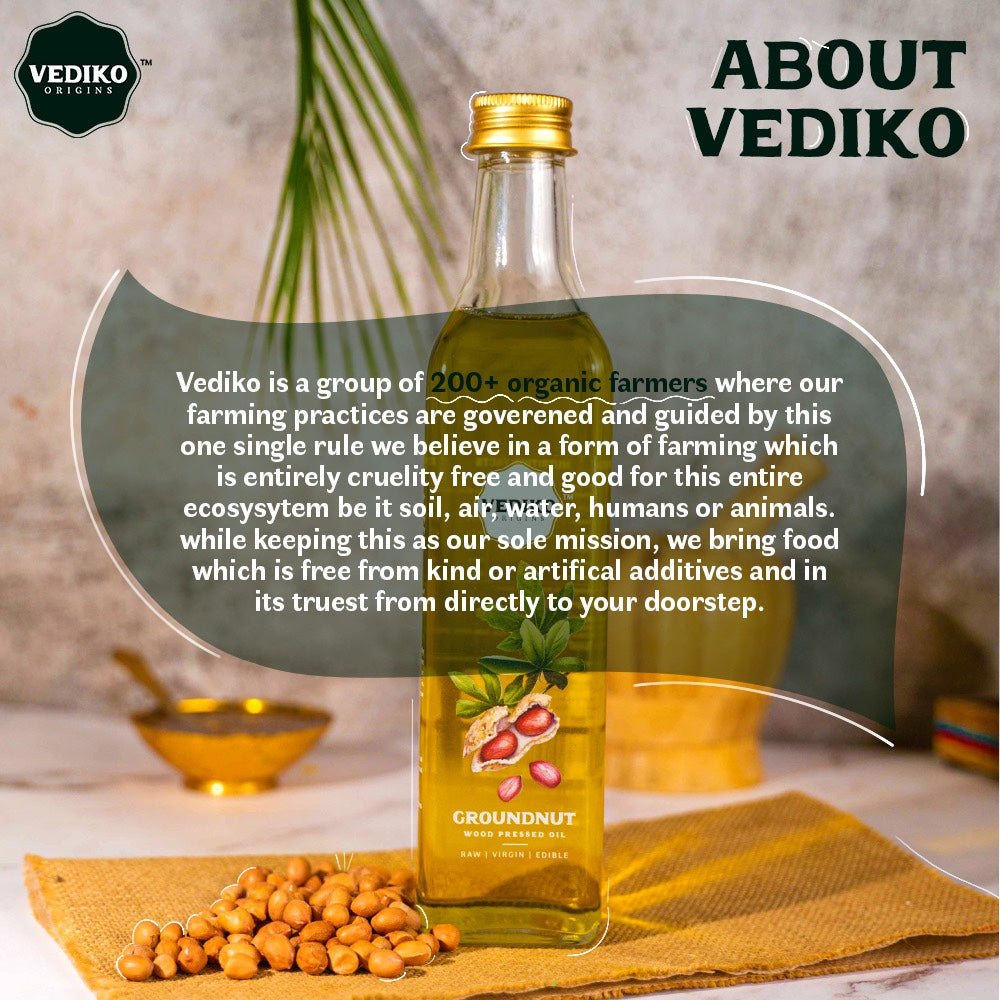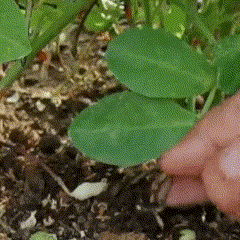 Our honest Process
Our Wood-Pressed Groundnut Oil is made from organically grown Native Groundnuts, Cold Pressed in Wooden Kolhus at a very slow RPM. So that minimal heat is generated in the extraction process. Keeping all the nutrition and flavour intact.