₹ 299.00
Regular price
₹ 299.00
Sale price
Unit price
per
Sale
Sold out
Shelf life: 12 Months
Cold pressed virgin edible oil, obtained from organically seeds of the castor plant. No Preservatives are added. 
Description

How to use:
* Can be used as a hair old for it helps in controlling hairfall; hydrates & moisturises dry scalp.
* Could be consumed relieve constipation and keep gut healthy.
* Could be used to massage heels & cracked skin
* Could be used as serum for skin for its anti-ageing properties.

Application:
* massage the oil evenly over the scalp/skin
* Add1 tsp of oil to prepare your meals
* Consume 1tsp for laxative support
* Use this oil for beauty and wellness routine

Benefits:
* A good source of Vitamin E, Omega-6 and Omega-9 Fatty Acids, castor oil is widely used to relieve issues like joint pain and menstrual cramps.
* Preventing water loss, skin inflammation, improve localized blood flow and shed damaged skin cells to heal the skin.
* These oils also have laxative properties and have been used for years to induce labor in pregnant woman though there's no hard scientific evidence for it.

Ingredients

Seeds of the Castor Plant
Storage Information

Store at Room Temperature
FAQ

Q1. Can Castor Oil induce labor in pregnancy?
Answer: There has been no scientific evidence of the Castor oil and labour induction theory. Nevertheless, it is said that Castor oil may stimulate the bowels of the to-be-parent, irritating the uterus and causing contractions (which may or may not be labour.) The potential risks involved are Diarrhoea, Nausea and Vomiting.

Q2. Can Castor Oil regrow hair?
Answer: Castor hair enhances the health of your hair follicles due to the ricinoleic acid present in the source, castor beans. These fatty acids, in turn nourish and strengthen the roots which is why it may help one in regrowing their hair.

Q3. How to use Castor Oil for constipation?
Answer: Castor oil can help one deal with constipation if taken in small doses (preferably 15ml). If they do not wish to taste it directly, mixing it with juice maybe a wise choice. And, the effect can be seen in the next 3-6hrs.

Q4. Why is Castor Oil so thick?
Answer: Castor Oil is consistent in nature due to the fact that the pressed oil gained from the beans is heated and then blended into a smooth paste. It is then mixed with water and boiled to separate the oil, letting it flow on the surface.

Q5. Does Castor Oil help to stop male pattern baldness?
Answer: The numerous nutrients present in the Castor Oil may help one in strengthening their hair follicles and to get smooth and shiny hair. There's no scientific evidence of oils treating male pattern baldness but then again, castor oil is one of the best chances to regrow hair.
Offers

Get 5% Discount on Prepaid Orders
View full details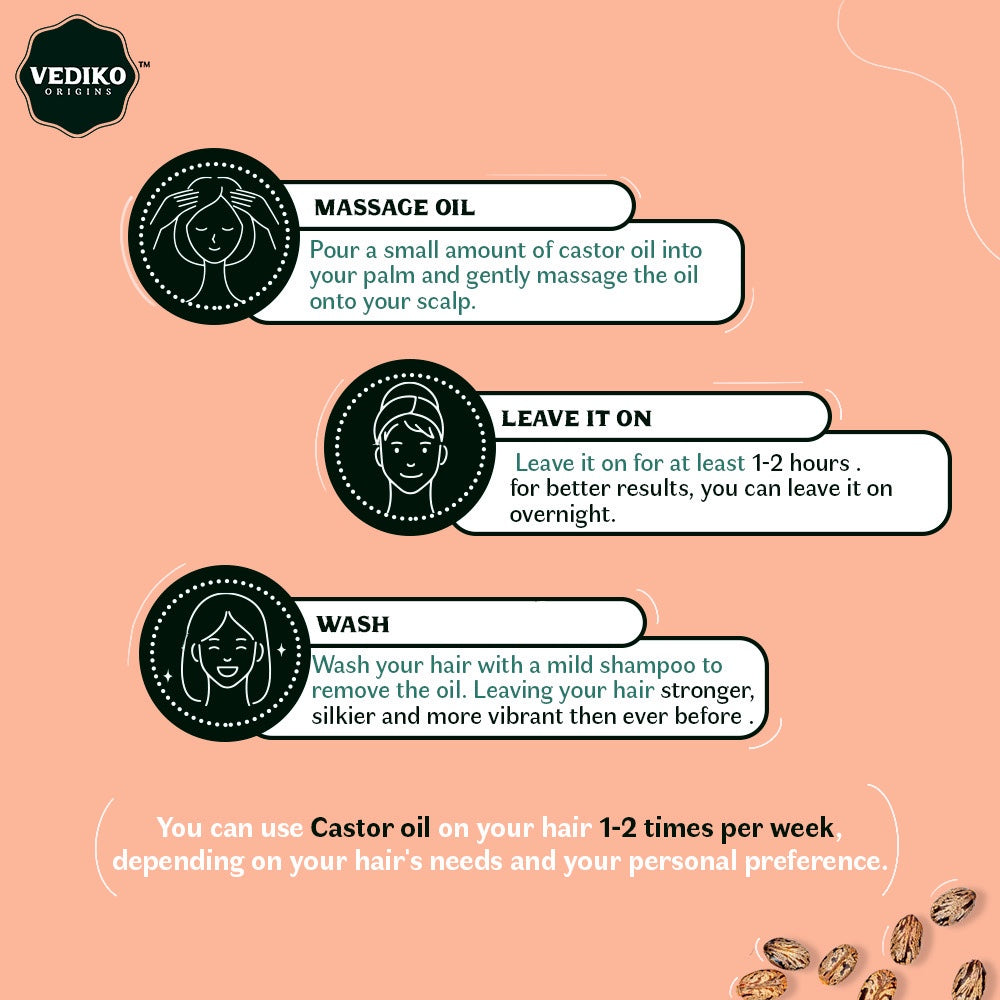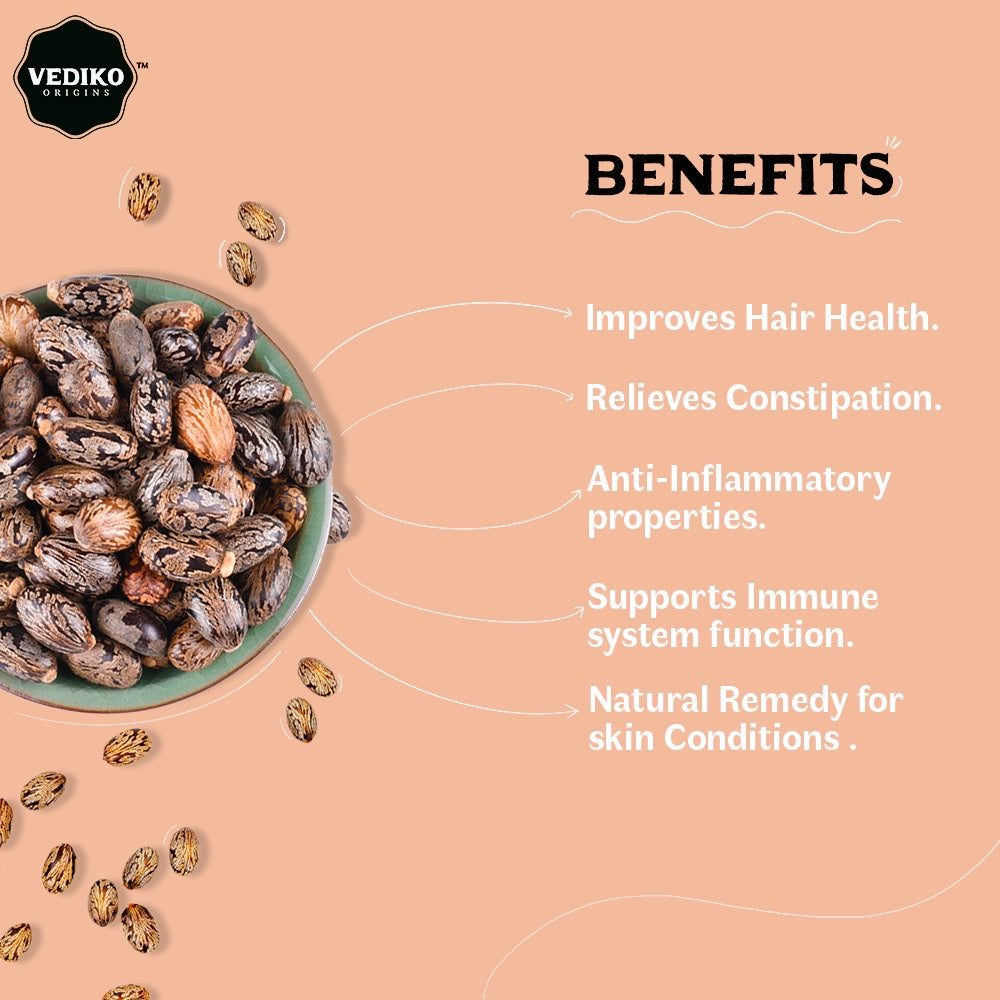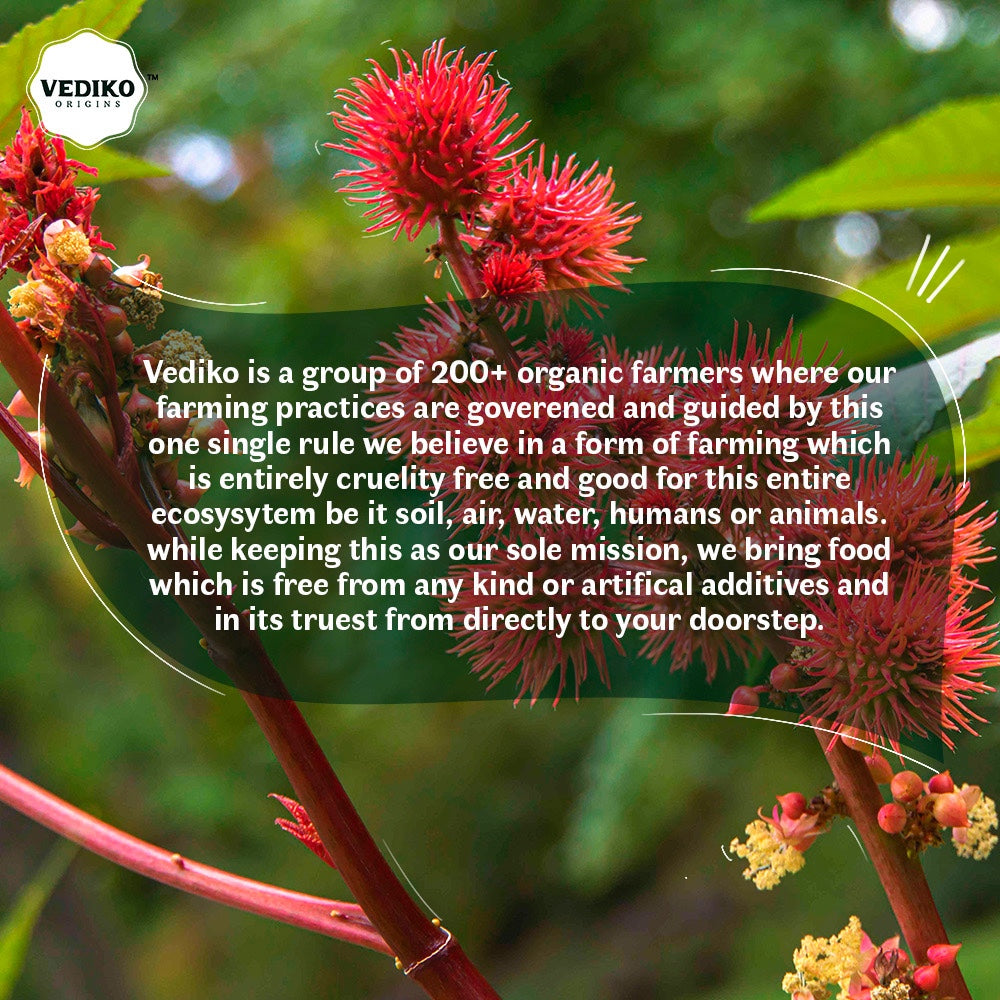 Our honest Process
Our Cold-Pressed Castor Oil is made from organically grown Castor Seeds, cold pressed at a very slow RPM. So that minimal heat is generated in the extraction process. Keeping all the nutrition and flavour intact.