FLAT 5% OFF
On orders above ₹1499/- (Use Code: FLAT5)
FLAT 10% OFF
On orders above ₹1999/- (Use Code: FLAT10)
FLAT 12% OFF
On orders above ₹3999/- (Use Code: FLAT12)
FLAT 15% OFF
On orders above ₹5999/- (Use Code: FLAT15)
₹ 999.00
Regular price
₹ 1,398.00
Sale price
Unit price
per
Sale
Sold out
Shelf Life: 3 Months
Sweet pickle made from Organically grown Amla, Desi Khaand & Mishri
Description

This Amla Murabba is made from Organically grown Amla & Raw Sugar. Both grown & processed at our partnered controlled farm.

-Packed without any sugar syrup
-No artificial colour/flavour
-No added preservatives
-No use of refined sugar/ table sugar
-Rich in Vitamin C
-Powerful antioxidant & anti-aging properties
-Food source of minerals & Immunity-Boosting Properties

Uses: Can be consumed as it is twice a day
Ingredients

Amla, Raw Sugar and Mishri
Storage Information

Store at Room Temperature
FAQ

Q1. What is Amla Murabba?
Answer: Amla Murabba, also known as Indian Gooseberry, is a sweet alternative to your spicy pickles. It is made by fermentation of Amla with raw sugar- desi khand and mishri.

Q2. Does Amla Murabba help in boosting immunity?
Answer: Amla is a rich source of vitamin A, E and C which helps in boosting one's immunity. Hence, consuming Amla Murabba is a good way to improve the body's ability to prevent diseases.

Q3. How to prepare Amla Murabba?
Answer: Vediko's Amla Murabba is prepared from organically grown Amla and raw sugar (Desi Khand). With patience and practice, the amlas are cleaned, boiled and fermented with native ingredients over a certain period of time. They are then stored and packed in sterilized jars but no sugar syrup or preservative or artificial additives are used.

Q4. Does Amla Murabba increase weight?
Answer: Amla in amla murabba increases the digestion rate and reduces the buildup of toxins, which may help you in weight gain.

Q5. Can Amla Murabba be taken with milk?
Answer: Though it is claimed that Charaka Samhita promotes one to have milk with amla but there is no concrete proof of this or if it helps in better metabolism. Moreover, amla contains citric acid and most citrus fruits are not compatible with milk.

Q6. Can I take Amla Murabba during pregnancy? Answer: Amla Murabba, when prepared without any additives, is a good source of vitamin C for pregnant women and its fetus. It also helps in gastrointestinal issues and improves appetite.

Q7. What are the health benefits of Amla Murabba?
Answer: Amla Murabba has numerous medicinal properties which benefit greatly for health. It acts as a cardiac stimulant, memory booster, liver and stomach tonic. It also promotes gastrointestinal health and organ inflammation.
View full details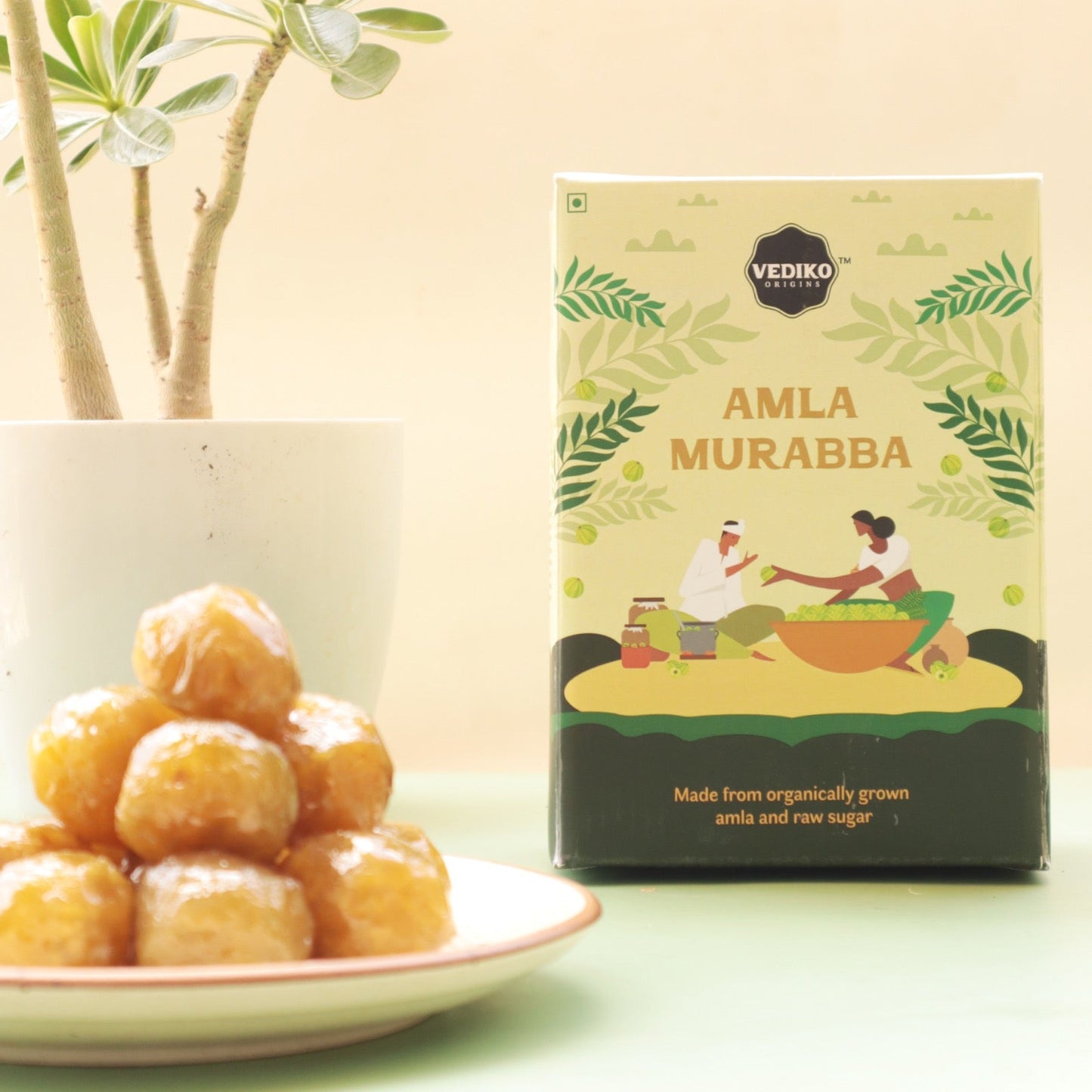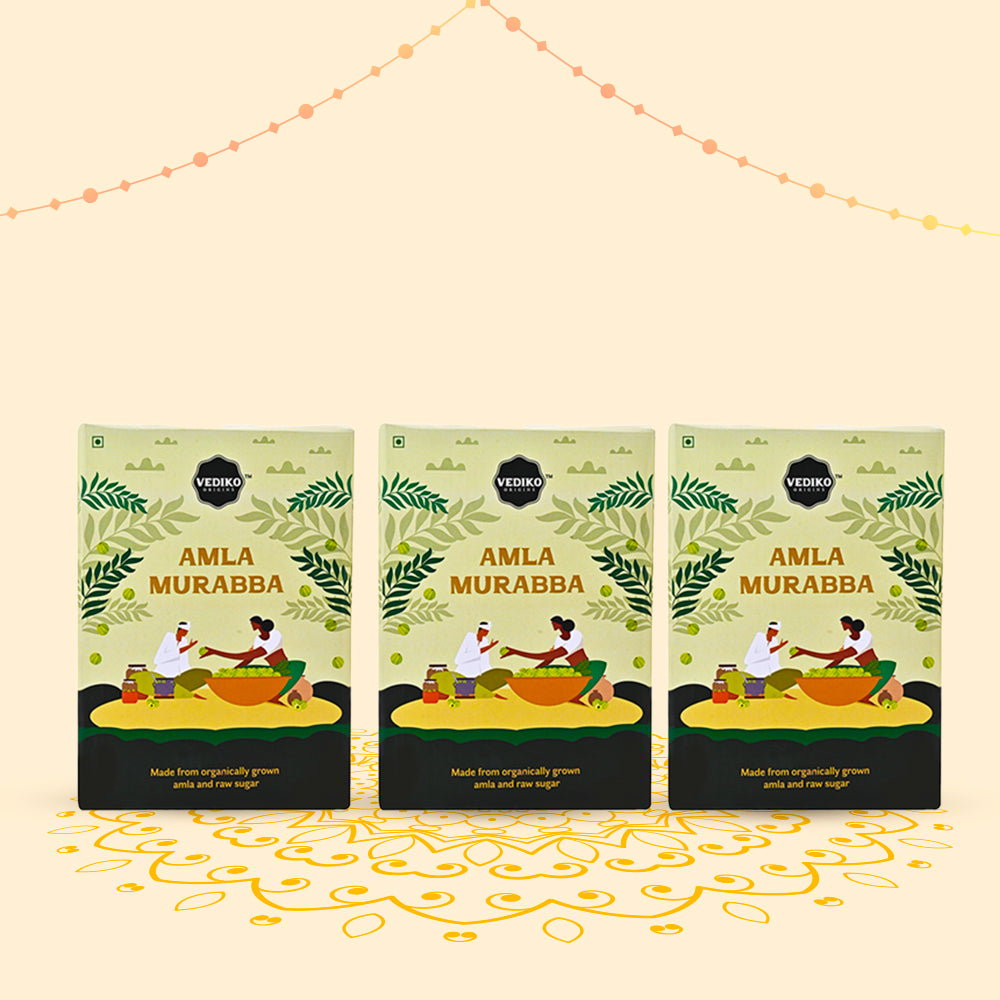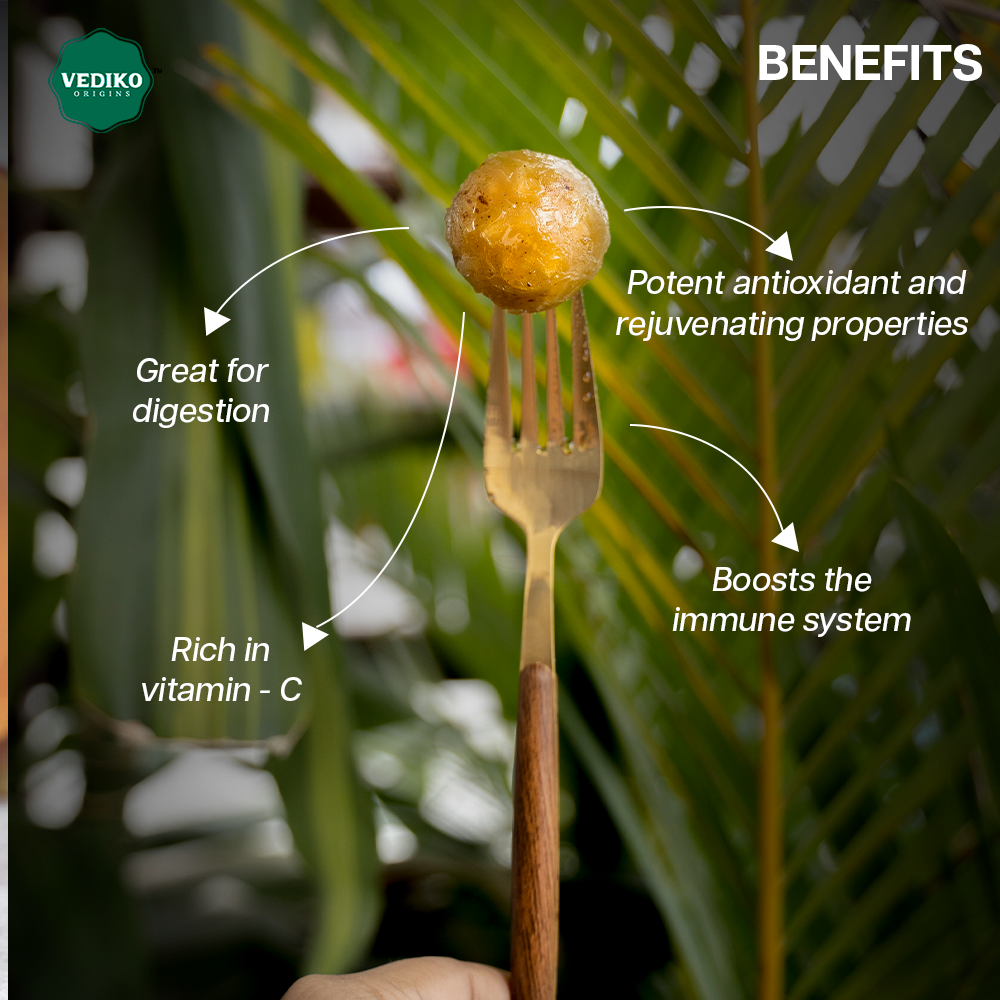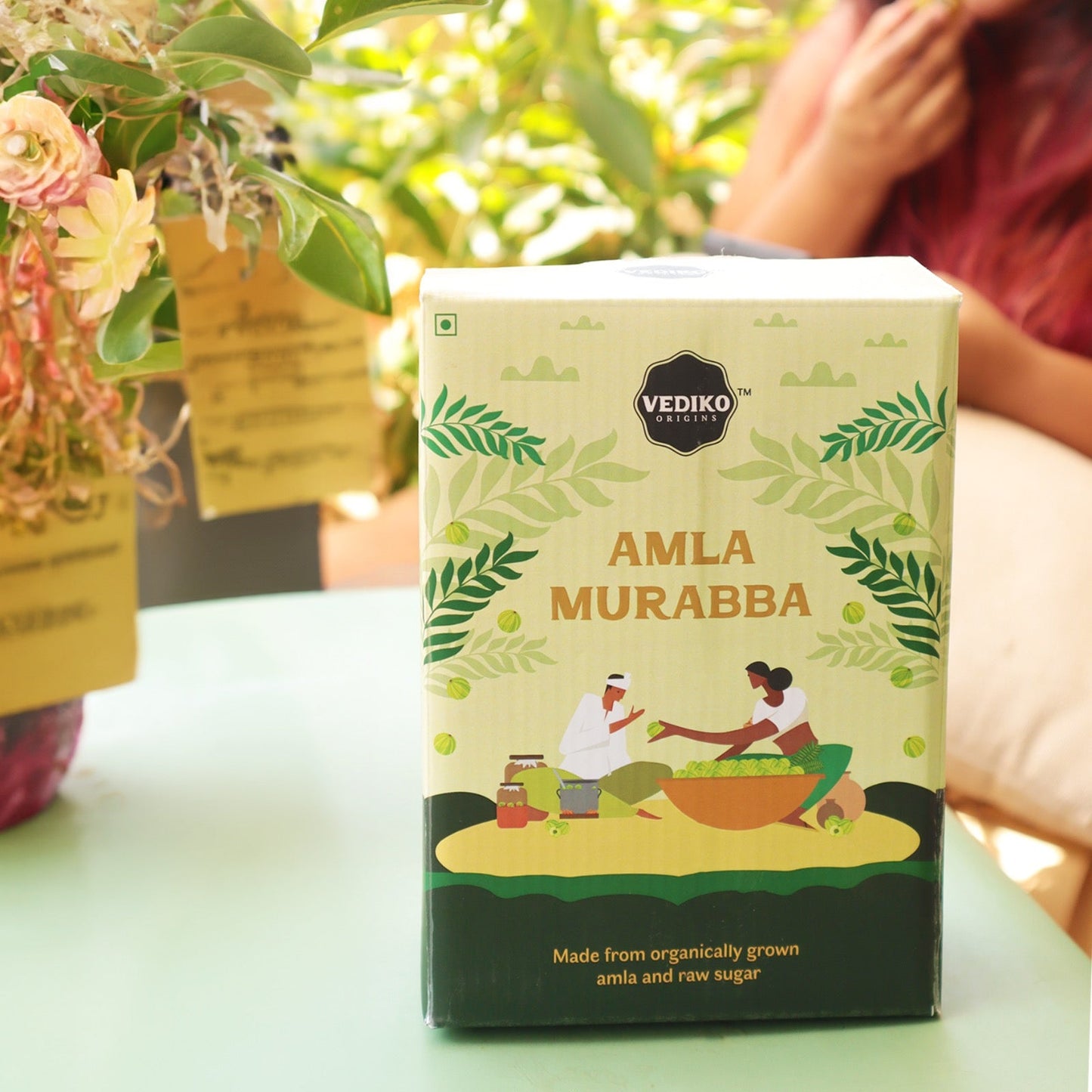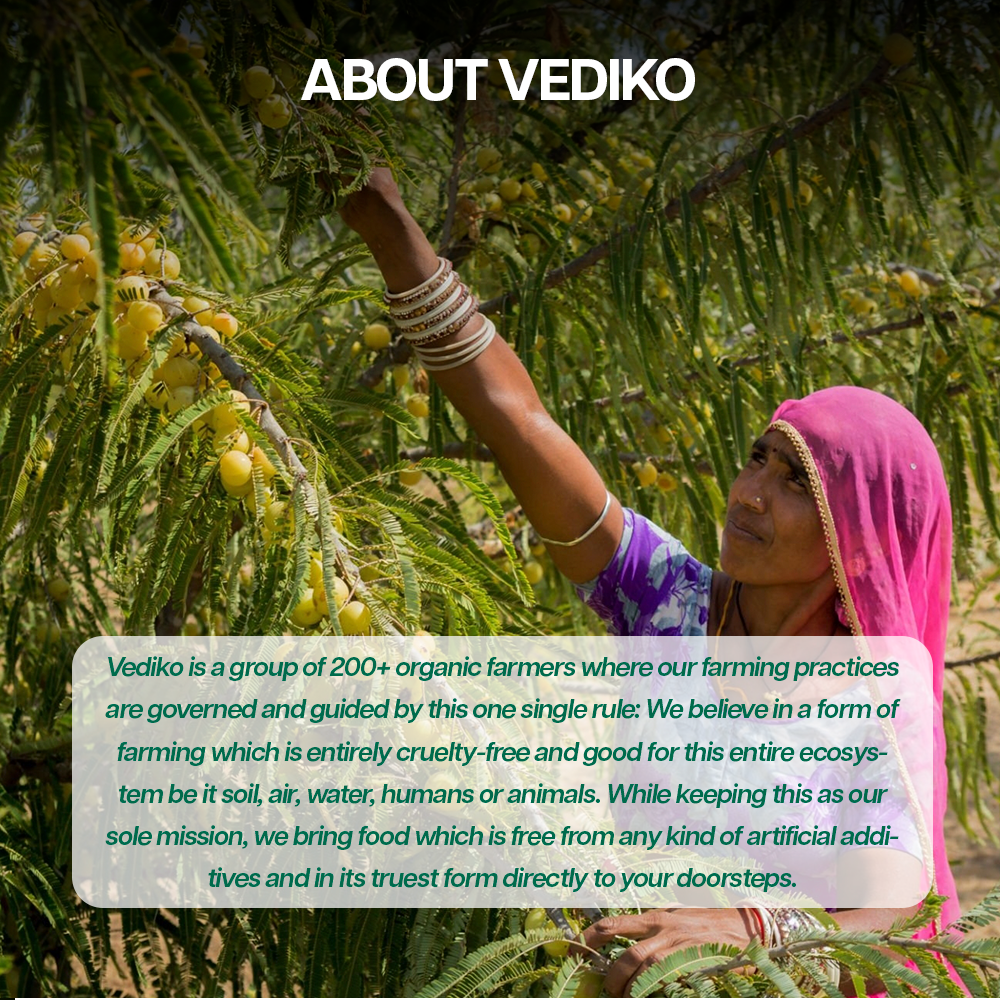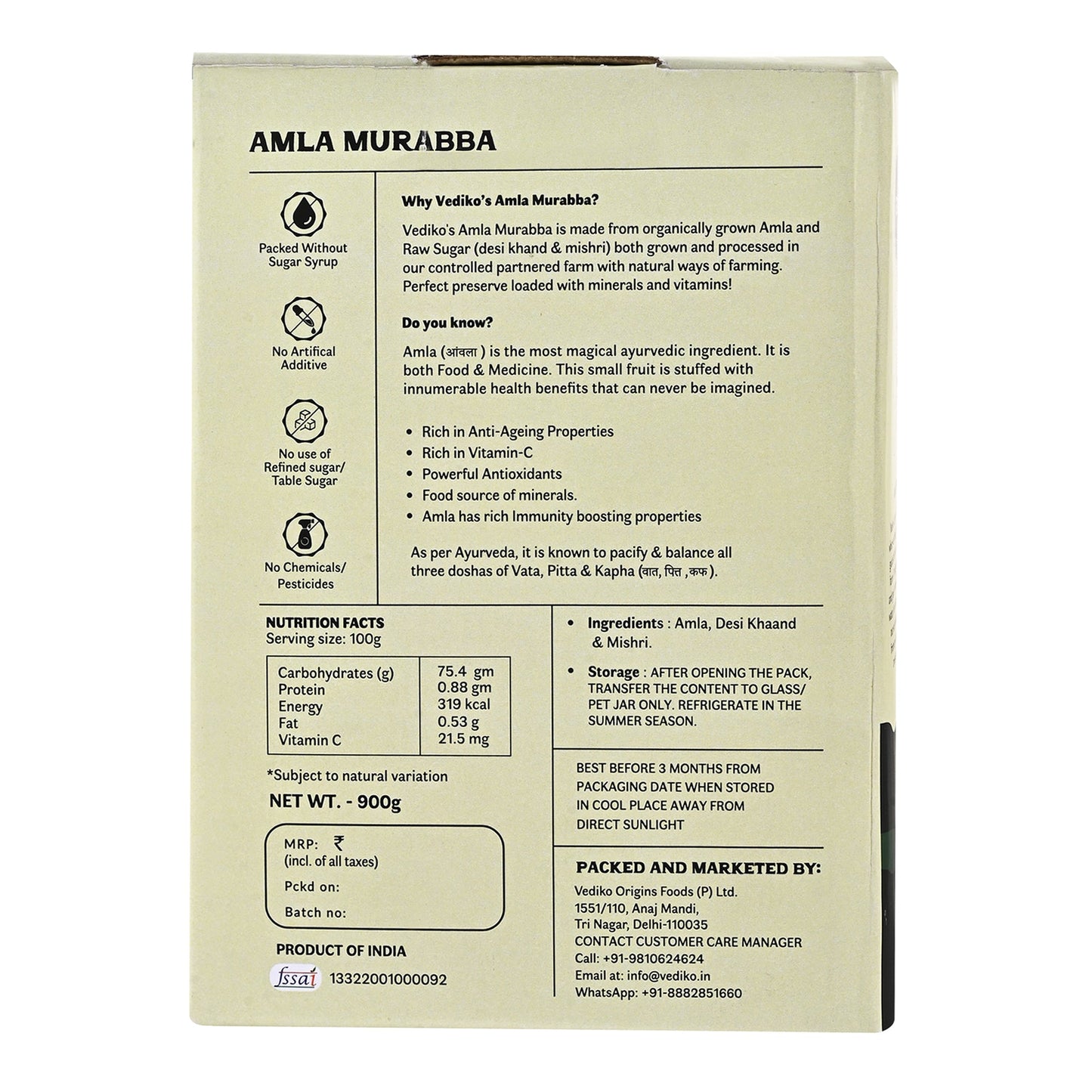 Our honest Process
Our Amla Murabba is made from Organic Amla & Raw Sugar. Both grown & processed at our organic farms. This is packed without any artificial additives or pesticides. An Excellent source of Vitamin-C with Immunity Boosting Properties!